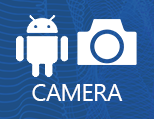 Camera for Android
Delphi and C++ Builder camera component for Android.
uses Android Camera API
available for Delphi/C++ Builder 10 - 11
source code included in registered version
royalty free distribution in applications
Download and order
FAQ
How can I set auto focus mode?

if foContinuousVideo in ACamera.SupportedFocusModes then
  Camera.FocusMode := foContinuousVideo;
							
How can I rotate still image retrieved from camera?

procedure TFormMain.ACameraPictureTaken(Sender: TObject; Data: TArray<System.Byte>);
var
  Stream: TBytesStream;
  Bitmap: TBitmap;
begin
  // write original image
  TFile.WriteAllBytes(TPath.Combine(TPath.GetPublicPath, 'picture_' + FormatDateTime('yyyymmdd_hhnnss', Now) + '.jpeg'), Data);

  // rotate image and write it
  Stream := TBytesStream.Create(Data);
  try
    Bitmap := TBitmap.CreateFromStream(Stream);
    try
      Bitmap.Rotate(90);
      Bitmap.SaveToFile(TPath.Combine(TPath.GetPublicPath, 'picture_' + FormatDateTime('yyyymmdd_hhnnss', Now) + '_rotated.jpeg'));
    finally
      Bitmap.Free;
    end;
  finally
    Stream.Free;
  end;
end;
							
Related links