WinRT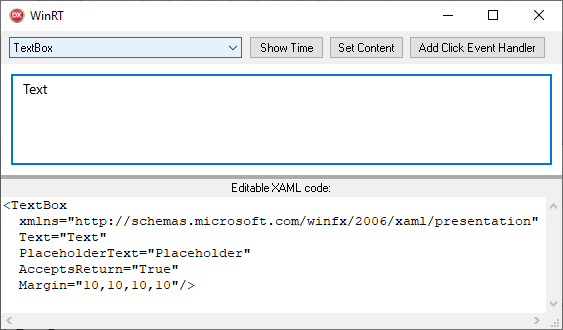 Enables Delphi applications to use Windows Runtime and UWP controls.
uses Windows Runtime API and XAML Islands
supports Windows 32 and 64-bit applications
available for Delphi 7 - 10.4
requires Windows 10
source code included in registered version
royalty free distribution in applications
Download and order
FAQ
How can I use MediaElement?

<MediaElement
  xmlns="http://schemas.microsoft.com/winfx/2006/xaml/presentation"
  Source="https://sec.ch9.ms/ch9/4bf3/2ab376f2-72b1-437a-af2f-77938a274bf3/XAML_Islands.mp4"
  AreTransportControlsEnabled="True"/>
							
How can I use ColorPicker?

<ColorPicker
  xmlns="http://schemas.microsoft.com/winfx/2006/xaml/presentation"/>